Amos Gill
Multiple Dates & Times
Early Show 16+/Late Show 18+
Early Show 16+/Late Show 18+
Get Tickets
Details
Comments
Event Stats
Early Show 16+/Late Show 18+
Event Description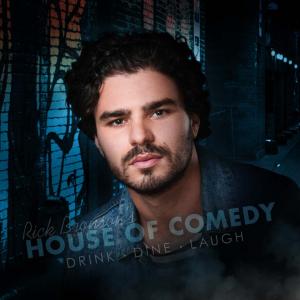 Credits:


Melbourne Comedy Festival


Just for Laughs


ABC


**2 menu item minimum per-person in the showroom**
You must check in at least 15 minutes prior to showtime or your tickets may be sold, (only in case of a complete sellout). If your group is 4 or more please arrive 30min prior to showtime or your group may be broken up to seats available.
If your ticket is sold you will receive a full ticket credit to use for any other performance. If your ticket is not sold there are no refunds. There is a 2 menu item minimum purchase per person in the showroom.
Tickets are non-refundable after purchase.
About Amos:
One of the hottest comedians in Australia and now swiftly making a name for himself globally, Amos Gill divides his time between Australia and the USA, where he is a touring headliner.
A cherished Adelaide identity thanks to his four years hosting the Amos, Cat & Angus breakfast radio show for Australia's biggest broadcaster Southern Cross Austereo, in 2018 Amos announced that he was giving up breaky radio's notorious 4am rises and heading to the USA to crack a comedy scene in which he had already carved out a name for himself as a comic to watch.
After an impressive appearance as national runner-up in triple j's RAW Comedy competition, Amos went on to earn nominations for the Best Emerging Comedian and People's Choice awards at the 2013 Adelaide Fringe for his debut solo show, You've Changed. 2013 also saw Amos hand-selected by the Melbourne International Comedy Festival (MICF) directors to host the prestigious Comedy Zone; showcasing four of Australia's best new comedians. In 2014 he was once again honoured by MICF with a Best Newcomer nomination.
On TV, Amos hosted Wacky World Beaters for ABC3 in 2013, before being recruited as a recurring guest on Jimeoin's FIFA World Cup comedy commentary series The Full Brazilian and in a starring role for Fox Footy sitcom Four Quarters. Amos has hosted the Australian Cinematographers Society Award-winning series, Footy Plus – which aired on Friday night TV as well as on the AFC's digital platform to an audience that ranks among the biggest in Australian club sport.
He has appeared in multiple TV galas including the MICF Allstars Comedy Gala, ABC2's Comedy Up Late, the Just For Laughs Australia series' and has been seen on as a recurring guest on Ten's Celebrity Name Game and Studio Ten.
As well as being a headliner in his own right in the USA, UK and Australia, Amos has performed at the Sydney Opera House and in multiple countries touring with Jim Jefferies, including opening for him on his Australian and South African arena tours and at New York's iconic Madison Square Garden to a sell-out crowd.
In 2022 Amos took his full live show You've Wrecked The Joint out on his first solo tour across Australian capital cities. The tour was a smashing success, selling out five shows nationally and adding a second show in Perth to meet the extreme demand for tickets.
Join the Conversation
Follow the event with #DrinkDineLaugh